Reliable propane delivery in the Hampshire and Franklin areas is just a click away! Surner Heating Co. is proud to provide dependable propane fuel deliveries to our Franklin and Hampshire County customers. If you'd like to take advantage of our low pricing and terrific service, don't hesitate to get in touch to place your propane delivery request today. Simply contact our team using the form linked below to place your propane delivery request. And as always, please contact us if you have any questions!
ORDER PROPANE
We are pleased to deliver to customers using fuel assistance! Contact us for more information.
Automatic Propane Delivery
Most of our propane customers choose to participate in our no-added-cost automatic propane delivery program. We'll keep a watch on your tank and provide a propane delivery when it starts to get low on fuel. Our degree-day system keeps track of how much propane you have and automatically schedules deliveries for you! If you are interested in automatic delivery, please call to sign up.
Will-Call Propane Delivery
Prefer to manage your own propane gas deliveries? No problem! Just check your fuel storage container's tank gauge regularly and fill out the form linked below when your gauge shows 30% capacity. We take propane safety very seriously and would be happy to inspect your tank and refill it with high-quality, affordable propane fuel.
Wi-Fi Tank Monitors Make Life Simple
Interested in being able to check your propane fuel levels without trekking out to your tank? Surner Heating offers Otodata propane tank monitors, which connect to a free mobile app that you can check from your smartphone. If you want even more peace of mind when it comes to your deliveries, this is a great option. Contact us if you would like to rent a tank monitor.
How It Works:
We will install a wireless tank monitor on your propane tank
The monitor transmits to our office constantly the level of your propane
We now know how much propane you have in real time
When your tank reaches between 25–30%, we schedule a delivery
Otodata has a special app that you can download to monitor your own tank levels
RENT A TANK MONITOR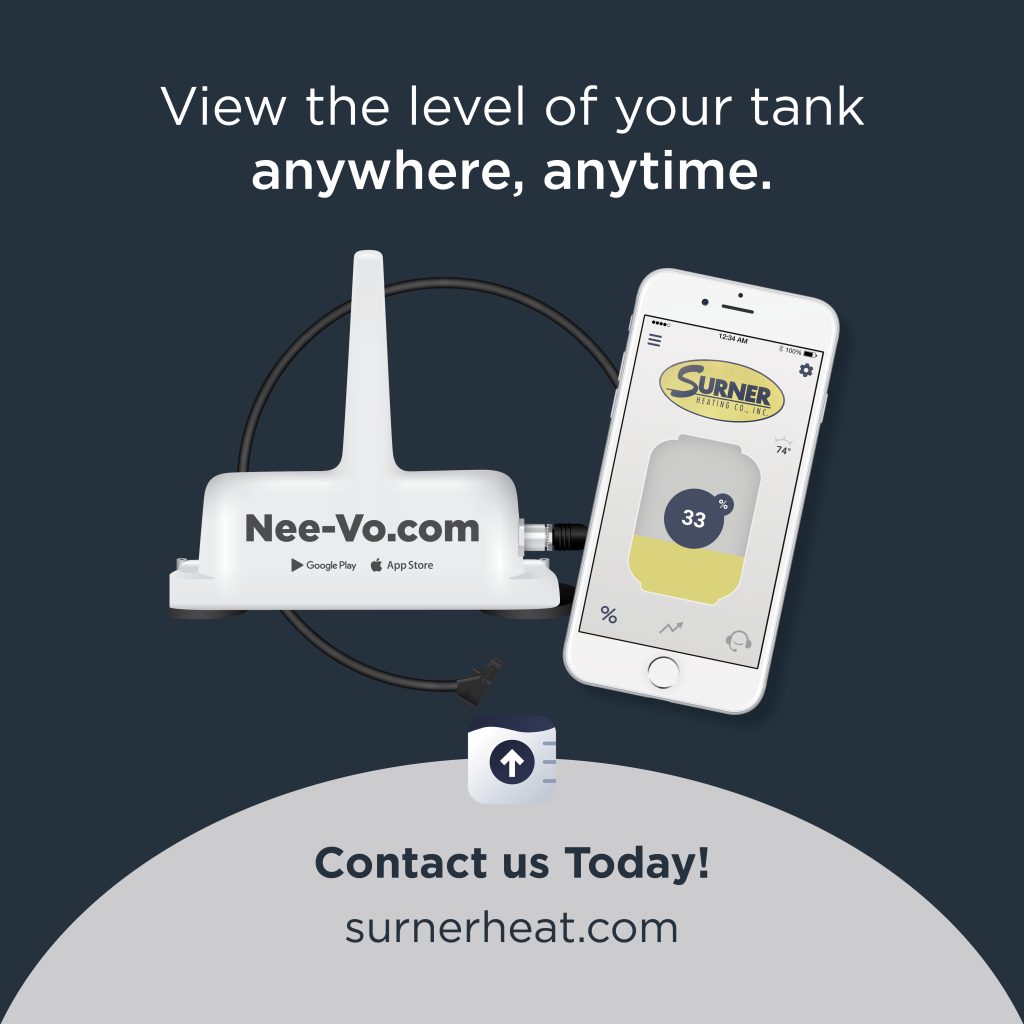 Propane Safety
Our team takes propane safety very seriously. If you use propane at your home or business, please take some time to visit our Propane Safety page to learn best practices for safely using and handling propane gas. If you have any questions, don't hesitate to give us a call, and our propane experts will happily speak with you and answer any questions you may have.