September 28, 2020
Summer might be over, but here in Massachusetts we still like to keep our backyards cozy as ever during the fall time. What might this entail? By installing propane-fired appliances into your outdoor living space, you can enhance your family's comfort and create the backyard of your dreams.
Imagine not having to deal with the hassle of small propane cylinders that run out after one use. Lucky for you, these appliances can be connected to your existing propane supply, keeping your backyard oasis active all season long with our automatic delivery service!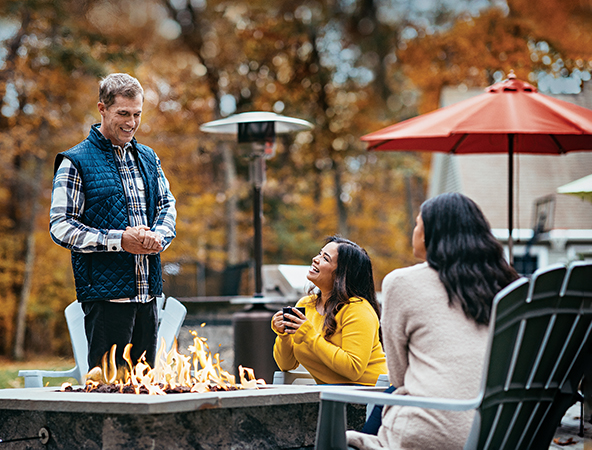 Outdoor Propane Uses for Western Massachusetts:
When people think of propane for outdoor use, many tend to think of gas grills. But, here at Surner Heating, we see its wide outdoor versatility and the unique ways you can put it to use.
Gas grills: The benefits of cooking with a gas grill are endless, but the deal breaker for us is the even cooking, on-demand settings, and a fast initial heating period. Not to mention, the clean-up is fast and far less messy. Who wouldn't want that?
Outdoor burners: Now that you've got a gas grill squared away, take your cooking to the next level with a propane-fired outdoor burner. Make a batch of country-fried chicken or beer-battered cod without the heavy oil smell lingering in your household for days. Have you ever dreamed of making smoked salmon? Your burner can even double as a smoker!
Patio heaters: Why sit inside this fall when you can be just as cozy outdoors, surrounded by beautiful fall foliage. These high-efficiency heaters provide consistent heating, keeping your backyard space warm and inviting. You'll forget why you didn't have one in the first place!
Fireplaces/Firepits: Better yet, pair your patio heater up with a propane-fueled firepit to reach maximum comfort. With this, you skip out on the mess and smokey remnants of a regular firepit.
Hot tubs: With a propane-heated hot tub, you can reach and maintain the desired water temperature faster and more efficiently for a cheaper price, saving you time and money! Who wants to wait outside in the cold for long, anyway?
Surner Heating provides propane deliveries to Franklin and Hampshire Counties. If you're ready to optimize your outdoor living space this season, give us a call today and we'll get you set up in no time!